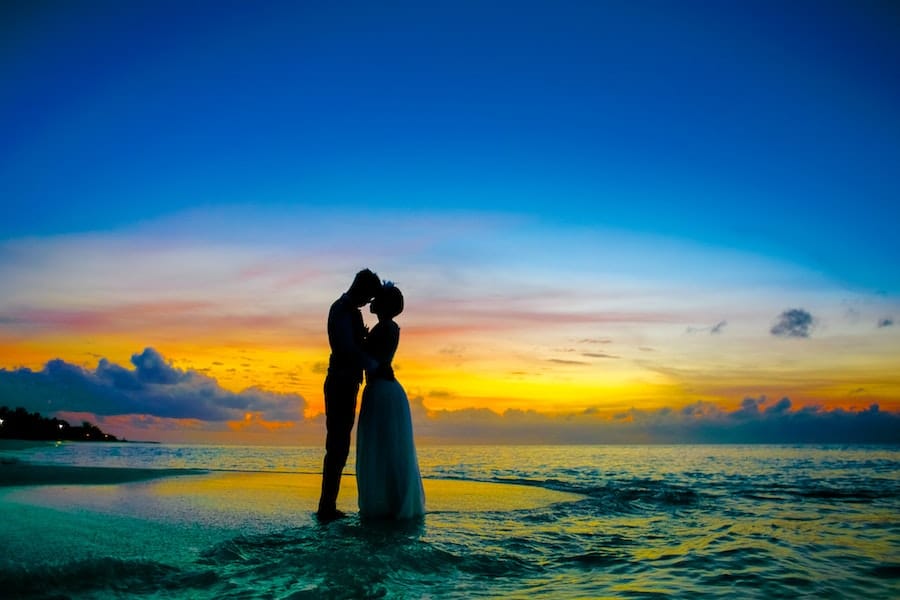 Off-season honeymoons radiate an enigmatic allure. They promise a unique blend of serenity, cost-efficiency, and a palette of activities that defy the cliché tourist offerings. However, an unconventional honeymoon season demands specialized preparation. So, to help ensure your first trip as a married couple goes smoothly, we've put together this comprehensive guide for essentials that deserve a spot in your luggage.
Why Travel During the Off-Season?
Traveling off-season opens up a Pandora's box of opportunities. Lower costs mean more luxury without the newlywed financial stress. Fewer crowds translate to unspoiled vistas and intimacy, a freshly minted marriage could truly cherish.
Last but not least, each destination unveils activities and experiences exclusive to the off-peak months! You'll have an experience unlike anybody else's, so it's worth considering missing out on those all-too-expensive summer months for an off-season honeymoon escape.
1. Pool Floats for Two
Kicking off our list are pool floats, an epitome of waterborne relaxation. Opt for designs meant for couples to turn those sun-drenched afternoons into a harmonious escape. Whether you choose whimsical swans or modular loungers that let you drift hand-in-hand, a good pool float is a whimsical addition that elevates your honeymoon to new heights.
2. Thermal Layers
Sometimes, love isn't the only thing in the air … there's also a chill, especially if you're adventuring during the off-season. Packing smart with thermal layers ensures you stay warm, snug, and in the mood for exploration. The modern thermal wear market offers materials like merino wool that keep you warm without compromising style or comfort.
3. Water-Resistant Camera
The drizzles of Costa Rica or the snow in the Swiss Alps shouldn't deter you from capturing the essence of your romantic escape! A water-resistant camera can be your trusty sidekick. Besides the waterproof feature, go for cameras with robust batteries and low-light capabilities for a versatile shooting experience.
4. Portable Bluetooth Speaker
Few things set the mood, as well as music. Whether savoring a tranquil dinner under the stars or marching up a mountain trail, a portable Bluetooth speaker enhances the atmosphere. Hunt for waterproof, rugged designs that don't skimp on sound quality. Audio can immortalize moments, rendering them timeless in your shared memories.
5. Multipurpose Footwear
Why lug around a suitcase full of shoes when one pair can do it all? Functional yet fashionable, multipurpose footwear is your passport to diverse experiences. For the adventurous couple, hiking boots with quick-drying features and contoured soles offer the grip and support needed for strenuous activities.
In the same stride, a leather finish or minimalist design enables these versatile shoes to blend in during a casual dinner or an impromptu night out. Certain brands even provide removable insoles for customized comfort. The right multipurpose footwear eliminates the need for multiple pairs, making your luggage lighter and your honeymoon more carefree.
6. Rain Gear
Mother Nature's whims shouldn't rain on your parade. Compact, foldable raincoats or travel-sized umbrellas are essential gear. It's important to opt for rain gear made of breathable, waterproof fabrics like Gore-Tex, which allows sweat vapor to escape without letting water in. This can be invaluable in humid conditions or high-exertion activities. 
Foldable raincoats often come with a pocketable pouch, making them easy to pack. Travel umbrellas with strong but lightweight frames constructed from materials like carbon fiber or aluminum are designed to withstand gusty winds without flipping inside out. With high-quality rain gear, you can stay dry without sacrificing mobility or comfort.
7. Insect Repellant Wipes
Mosquitoes have no place in your honeymoon tale. Instead of sprays or lotions, insect-repellent wipes offer a less messy and more airport-friendly alternative. Products containing DEET are highly effective but should be used sparingly and washed off at the end of the day.
If you're eco-conscious, wipes with oil of lemon eucalyptus can serve as a natural but powerful deterrent. Insect repellent wipes can also be used to wipe down surfaces, providing an extra layer of protection against crawling critters. They are individually wrapped so they remain moist and effective for longer.
8. Local SIM Card or Portable Wi-Fi Device
Staying connected in an unfamiliar land is crucial for posting enviable pictures and practical reasons like navigating and emergency contacts. The dilemma often boils down to a local SIM card or a portable Wi-Fi device.
A SIM card usually offers better connectivity and local rates, while a Wi-Fi device allows multiple connections, making it handy if both of you want simultaneous internet access.
Two Tickets to Paradise
An off-season honeymoon is like a beautifully woven tapestry of unique experiences, serendipitous moments, and lifetime memories. These specially curated essentials serve as items in your suitcase and enablers for an unhindered, exceptional romantic getaway.
Pack wisely, and let your honeymoon be the first chapter of wedded bliss that you'll fondly revisit for years to come!