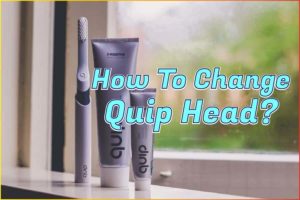 The electric quip brush is popular and among the recent brands to hit the market air. The impressive marketing campaign has made it seemingly popular.
Electric quid brush mostly targets Gen Xers and older millennials. Its design is modern and sleek and is an invention of Silicon Valley startups. Plus, it did have considerations for Apple users.
Changing the worn quip head is possible, but most people do not know the steps. The article highlights the step-by-step guide on how to change the quip head. Continue reading for more information about the electric quip brush.
How To Change Quip Head?
According to dentists, changing your brush head every three months is ideal. It prevents the brush from becoming worn out and ineffective. Here is a detailed step-by-step guide.
1. Remove the brush head
To remove the head, grip the handle and head in opposite hands; the bristles should face the opposite direction.
Put your thumb on the toothbrush dot, and in a slight arc motion, gently pull the head off. Do not snap the head directly backward.
2. Remove battery and motor
You can pull out the motor by using the thumbnail notch or lifting the wings. After removing it, tip the handle over and tap out the battery.
3. Clean brush handle
You should lightly wet your old brush head bristles and scrub the old brush head using it. Remove any dried toothpaste that's on the handle top.
4. Dry all parts
If you leave moisture after cleaning, you risk damaging the battery and motor. Therefore you should pat down all your brush parts.
5. Replace battery and motor
Dropping the new AAA battery or newly rechargeable battery is straightforward. Firstly, you need to put the negative end and slide the motor back.
6. Apply fresh brush head
Push the new brush head; it should flush with the handle and make a dull click sound. You then test it by pressing the "q." If it works okay, then you're set.
What Ages Is Quip Suitable For?
Kids' electric toothbrushes will help your kid develop great brushing habits. Plus, they are a safer option for three years and above kids.
However, kids need supervision when dealing with electric brushes up to age eight. It helps you ensure that the child is following the right techniques two minutes a day, and that's in the morning and night.
When their molars grow at age six, you can change their small brush heads to standard. Children have different mouths and thus varying preferences; therefore, you need to select an electric brush that perfectly fits their needs.
You should note that children perceive the sensations differently than adults. Experts recommend seeking professional advice before choosing your kids' electric toothbrush.
You will learn about their specific needs, and they will help you select a brush that will incorporate into their daily needs and routines.
There are various electric brushes for kids, such as the refillable floss string and floss pick; they are much safer for kids from age three and above. To be certain your kid is flossing properly, you need to do it for them.
It encourages healthy habits among them, and they will be able to floss on their own properly. As mentioned, there are several quips with amazing easy-to-grip handles. They are the best quips to introduce your kid tonight to flossing.
Can You Use Quip With False Teeth And Braces?
All mouths can benefit perfectly from the electric toothbrush, whether small or big. It will properly spread paste and remove plaque.
You can also use it on your veneers and brace. Note that you can use it with false teeth or other orthodontic work. There's an ADA recommendation for people with braces.
They should brush their teeth for two minutes using a soft bristle brush. Like other people, they need to change the brush head every three months.
If you have false teeth or braces, you should choose an electric toothbrush with gentle vibrations and nylon bristles.
You can seek a dentist's advice if you have specific concerns or questions about using an electric toothbrush alongside your dental work.
Are Quip Electric Toothbrushes Waterproof?
Many people usually want to know whether quip toothbrushes are waterproof, more so shower brushers. The amazing thing is that quips are water-resistant.
All you need is to ensure the brush head and handle are fully attached. Ensure the electric toothbrush is dry during reassembling and assembling, or else internal moisture will damage the battery and motor.
However, do not store the brush in the running water path. Continuously storing it in most environments will weaken the suction strip or encourage bacteria growth.
It would help if you stored the quip in well ventilated and dry space with bristles up; this keeps it in shape.
How Does Quip Toothbrush Work?
The quid electric toothbrushes offer sonic vibrations of about 15,000 strokes in a minute. The strength is simply half of what other electric toothbrushes offer, plus you also have to brush your teeth in circular motions.
It's something that most manual brushes do perfectly. Quid is also different from other brushes because it isn't rechargeable.
It has an AAA battery that will serve you for approximately three months if you use it for two minutes twice a day.
There are different quip bristles, there are normal bristles, and in between, you find soft silicone bristles. Such bristles allow you to have a more thorough cleaning.
Plus, the brush has a tongue scraper on the brush head back. Quip design is ideal for those who love the minimalist vibe.
Unlike most electric toothbrushes, the quip toothbrush has only the "on" setting. But like most brushes, it has a two minutes timer and thirty minutes second pulse.
What Are The Advantages Of Electric Toothbrushes?
Firstly you should note that electric toothbrushes are faster than manual brushes. If you have braces, it means there are lots of crannies and nooks to clean around.
An electric brush will perfectly clean the wires and brackets quicker than a manual brush. Most powered brushes come with timers which are advantageous.
For perfect results, always brush your teeth for at least recommended time. If you have braces, you'll need more patience.
You can always use the timer; therefore, consistently brushing your teeth until the timer end will guarantee you a thorough clean.
Electric brushes are more likely to remove plaque and bacteria from patients who lack ideal oral hygiene practices. Plus, you'll use less effort than a manual toothbrush to get the same results.
The electric brush will agitate plaque on teeth and water in the mouth in areas where the manual brush can't reach. Therefore it makes it easier for bacteria to rinse away.
Disadvantages Of Electric Toothbrushes
The electric toothbrush also comes with some disadvantages, and the main one is its cost. Electric toothbrushes have a specific outlay; thus, new heads tend to be more expensive than a new manual toothbrush.
In addition, brushing around braces usually speeds up the bristles breakdown, making the toothbrush less efficient. Plus, it would help if you recharged your electric toothbrush before it goes flat constantly.
What Is The Cost Of The Quip Toothbrush?
The cheapest quip toothbrush version retails at approximately $25, and the most expensive is about $40.
Quip is much more expensive than manual toothbrushes but cheaper than most ultimate deluxe models.
Quip vs. Other Electric Brush Brands
Quip vs. CariPro
Cari is a quite popular electric toothbrush brand by smile brilliant. The brand is popular for its professional line of affordable oral healthcare products.
CariPro model is sonic, and it features all you need to maintain a healthy, bright, and clean smile. Plus, their models are affordable and do not feature confusing technology.
It's much more expensive than a quip. Its manufacturers are after offering their customers the absolute best oral care products.
The toothbrush has amazing features such as a wireless charging dock, a smart timer (auto interval), and many more.
CariPro brush heads design is for optimized cleaning. It's also great since it comes with a 60-day free trial; therefore, there's no risk of trying it.
Plus, there's free shipping both ways, so if you don't love it, you can surely return it freely for a full refund.
Quip vs. Oral-B and Sonicare
People usually wonder whether quip is better than Oral-B and Sonicare, which are among the popular electric toothbrushes in the market.
Oral-B and Sonicare are among the most competitive and have varying models. They are expensive and have some high-end models with features that quid can't measure up.
Conclusion
All in all, people usually love quid electric toothbrushes because of their aesthetics. Amazingly when it comes to style, the quid electric brush is at par with MacBook or iPhone.
Their vibrations are gentle and have soft bristles that are great when brushing your teeth. Plus, the subscription and refill plans process is effortless.
The other good thing is that it is affordable, and you'll end up paying less compared to other standard brushes.
You should change your quid head after three months for better results. The article has a step-by-step guide on how to change the quid head.