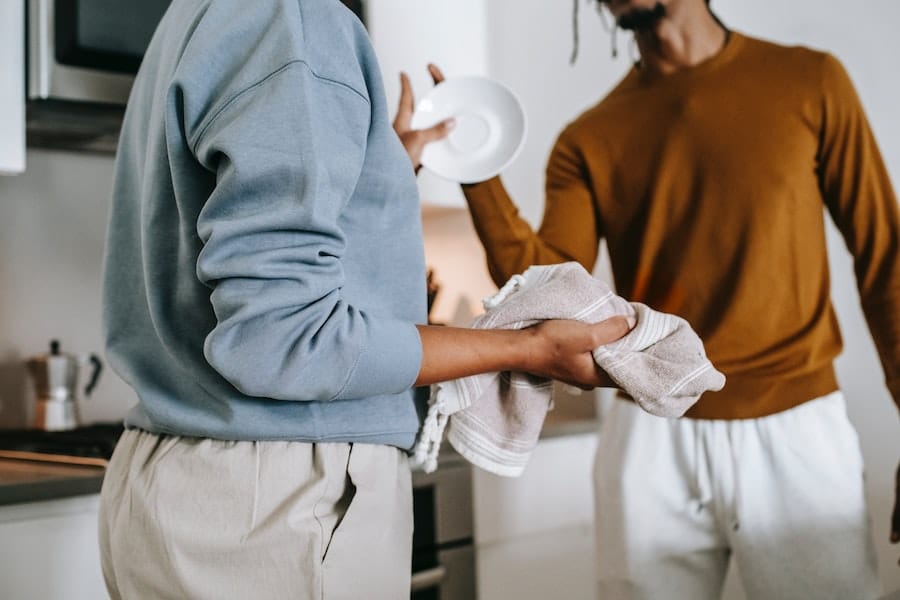 Every married couple starts with a happy and healthy family. The bond between your spouse, children, in-laws, and extended family was cherished during the marriage. But when the union falls apart, and divorce is the only option, the family ties may become strained. This is especially true if the separation is acrimonious—as many divorces can be.  
According to a recent report from Forbes, there were 689,308 divorces in 45 US states in 2021. With this data, you might be wondering if these separated couples still manage to keep their family relationships on good terms up to this day. Of course, no one can tell. Both parties must try to work together to have a peaceful co-existence. 
Your options 
If you're in the midst of a divorce, you might have many questions in your head, such as: 
How can I prevent my

children

from being affected by divorce?  

Is it possible to make family gatherings less awkward? 

Does being civil mean you have to be friends? 

What about custody and visitation rights? 

Do my in-laws still have to be involved? 
The answers to these questions depend on the situation. But here's the good thing: having good family relationships post-divorce is possible. Below is your comprehensive guide. 
Tips For Maintaining Family Relationships After Divorce 
Despite all the circumstances, you and your ex-spouse don't have to end up as enemies. To help everyone move forward or at least have a friendly relationship, consider the following tips: 
1. Prioritize open communication 
You've probably expressed your frustration during the divorce. But now that it's over, be sure to have amicable communication with your ex-spouse. This is especially true if you have children since they look up to both parents. You don't want your kids to feel like they have to choose between mom and dad; you must show them they're still your priority. Keep in mind that it's your marriage that ended, not your responsibility as parents. 
2. Set ground rules 
Once you've been open with each other, it's time to set some ground rules. This applies when it comes to spending time with your children. Maybe you can agree to have certain days when your ex-spouse can visit your kids. This way, you and your children won't feel like their life has been turned upside down. 
It's also essential to note that visitation rights aren't only for your ex-spouse. These include extended family members like your in-laws and siblings. For example, grandparents visitation after divorce is legally recognized in some states like Colorado. Hence, this matter is case-to-case as it requires careful consideration and discussion. 
3. Avoid negative comments about your ex-spouse 
It's not easy keeping your emotions in check when talking about someone you used to love and care for—especially if it didn't end well. But it doesn't give you a free pass to vent your frustrations. Although there might be temptations to say something bad about your ex-spouse, don't do it in front of your children or extended family as it may cause tension and conflict. 
Your ex-spouse still has responsibilities as a parent and family member. It's better to focus on your children and set aside bad things you may feel toward each other. This might take some time, but it's well worth it for the sake of your family. 
4. Involve your children in family decisions 
Before, you and your ex-spouse might have made decisions together. Now that you live separately, involving your children in some issues is essential. This is especially true if they're older, as they can understand some of the complexities of divorce and family relationships. 
Some decisions you can make with your children are family vacations, where to celebrate their birthdays, or even how they want to spend time with each parent. This approach allows your children to share their thoughts and feelings without feeling like they have to choose between the two parents. 
5. Reach out for help 
No two divorces are alike. If you struggle to make things work post-divorce, don't hesitate to reach out for professional assistance. You can look for a family therapist, marriage counselor, or mediator to help you rebuild interactions with your ex-spouse as well as the extended family. These legal experts can also advise handling specific issues, such as parenting disputes and time-sharing arrangements. 
Bottom line 
Divorce isn't easy—it's painful, emotionally draining, and physically exhausting. But as you move on and accept everything, you'll realize that the family ties you built before can stay intact. While it might not be the same, you can still make it work. 
By following the tips outlined in this article, you and your ex-spouse can find ways to coexist peacefully and keep a good family relationship—even if you don't live in the same home.