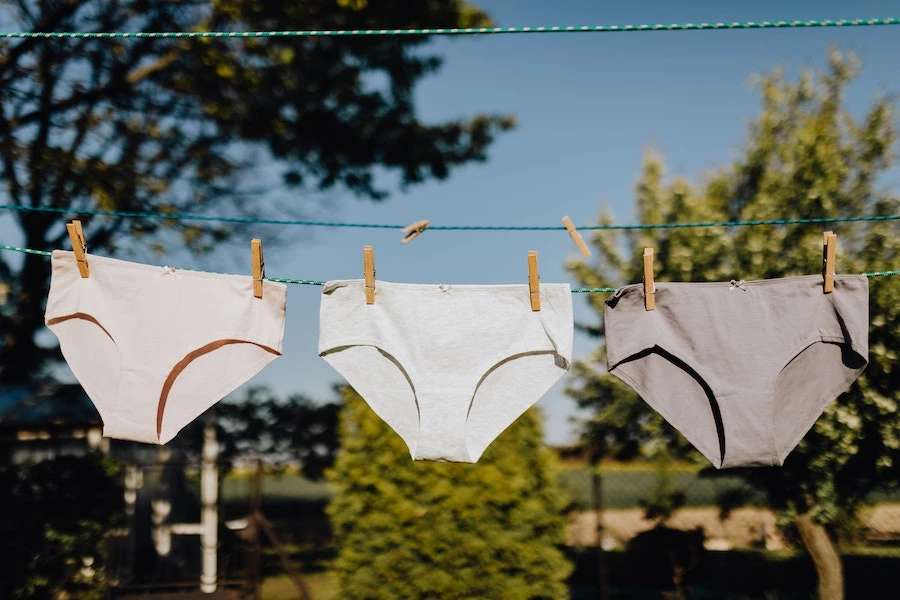 If you have ever found something in the store you wanted to try on, but put it back on the rack as soon as you realized the fitting rooms were closed – you are not alone.
We never know if something, even in "our size", will fit if we can't try it on. And let's face it, buying underwear is nearly impossible because it's not an item we are able to ever try on.
Usually when we get them home, we accept if they are too tight, or not quite the right fit, because we can't send them back or start over. And underwear can be expensive!
Here are a few helpful sizing tips that will hopefully make your next purchase of underwear a successful one.
Measure
It is impossible to get a perfect fit of your underwear if you don't measure. You can't assume you are an extra-large in one brand or style of underwear just because you are in another. It's also possible that your underwear will run a different size than your dress or pants. The only way to know for sure is to take your measurements.
First, measure your waist. This is probably something you don't know how to do (and that's completely normal!) You will need a sewing tape measure that will wrap around your body easily. To find your waist, bend sideways. Measure your waist at the crease.
Next, you want to measure your hips. This is tricky too. If you keep the tape measure parallel to the ground, you know you're accurately measuring your hips. Remember, your hip measurement should not include your bottom!
Measure Again
It's not easy to take body measurements yourself. If possible, get a little help from a friend. Better yet, a friend who might know something about sewing and taking measurements! Even a non-skilled helper can take your measurements to see if they get the same numbers that you did.
If you are working alone, it may be helpful to stand in a full-length mirror. By looking down to adjust your tape measure, it's possible to get an inaccurate measurement. Always take a second, even a third measurement if you're not sure.
After you've measured, if you have different numbers, always go with the higher number. It's better for your underwear to be slightly larger than too tight.
Size Charts
Almost every brand or company will provide their own size chart to help you select the perfect sized underwear. After you have accurately taken your measurements, have a blast shopping for underwear! When you find a style you like, make sure you check the style chart.
Most style charts are set up similarly. They will often show the sizes S (small), M (medium), L (Large), and so on, with corresponding measurements under hips, waist, etc. Find your measurement range that corresponds with these sizes and you will know what size to purchase. If your measurement teeters right on the edge between sizes, always go with the larger size.
Another tip: read the reviewer comments if there are any, and pay special attention to the feedback about fit. Some sizes "run larger or smaller" than the normal size, it's often noted. It makes sense to consider feedback from shoppers who have already gone through the process, which can save you from having to guess, and get the perfect size the first time.
Things To Avoid
Obviously you want to avoid taking inaccurate measurements. Underwear is usually not an item you can return, although some companies may offer you a discount or refund if they didn't provide a corresponding size chart.
As previously noted, you always want to go with the higher measurement, or size when close to the line. You always want to avoid getting underwear that is too small.
For one thing, underwear that is too tight or small, creates and makes any existing bulges much more noticeable. It is not a flattering look under any garment, and will most certainly get unwanted attention.
In addition, if you are an athlete, underwear that is too tight can lead to chafing and skin irritation if you are running and sweating! Even for just daily wear, your underwear needs to have some leeway for your skin to breathe.
You also want to avoid the classic wedgie – when your underwear rides up your bottom and becomes visible underneath your clothes. It does happen, when you haven't gotten the right sized underwear.
Finally, avoid the mistake of assuming your size hasn't changed. Whenever buying new underwear, be sure to re-measure yourself in case you gained or lost weight.
Final Thoughts
Getting the correct size when purchasing underwear can be tricky. By taking a little time, and following these sizing tips, you will be able to determine the perfect size.