It doesn't matter what you feel about them, but chances are quite high that you know that Pizza Hut is no stroll in the park. This company has been in existence for over half a century by two brothers who got capital from their mother. As of 2017, it held the unique record of being the second leading pizza chain in America in terms of sheer market size and sales. However, despite the quality and sheer market size of this company, one question people seem to ask is; why is pizza hut so expensive?
Why is pizza hut so expensive?
There are a few reasons why Pizza Hut is so expensive. First, the cost of producing Pizza is quite high and Pizza Hut holds the unique reputation of being one of the best. Also, the cost of operation of the Pizza Hut outlets is quite high owing to the standard that is maintained in such outlets. Furthermore, you will agree that the brand name is also a contributing factor to the inherent cost.
A Few Interesting Things That May Have Made Pizza Hut So Expensive
Yes, Pizza Hut may be quite expensive in terms of the cost of their products; however, they also seem to have a rich history behind them. Here are a few interesting facts to note about them:
1. One of the first things ever sold on the internet
You probably would struggle to find someone calling a pizza place to order in pizza these days. All people need to do is to go online and make their request using one of the many mobile apps. This may seem like another modern luxury, but Pizza hut has been at it since the 90s. it ranks as one of the first things that were ever sold online.
There claims that Pizza hut barely missed out on making the first-ever online sale in history to Sting's album. Whichever way you choose to look at it, they can confidently say they were one of the first!
2. There is a perfume line for Pizza Hut
One thing you can't take away from this brand is its spirit of innovation. The idea to kickoff a perfume arm may have started as a huge joke; however, it has seemingly become a huge success with time. The idea behind it was the belief that people who like pizza would also like perfumes and so birthed the perfume!
The perfume was launched in Canada in 2012 and made its triumphant entry into America in 2013. It was launched as a limited edition where only seventy-two people were fortunate enough to win the first limited release.
3. Hut Pizza in Space
When it comes to firsts, Pizza Huts never lags! And they took this culture to space when they became the first pizza chain to have pizza delivered to outer space. Back in 2001, one of their pizzas was sent through a Russian Space Rocket to the ISS. One would begin to wonder how expensive such a delivery must have cost, but it was Pizza Hut that paid the Russian Space Agency for the opportunity. It is reported that the delivery cost Pizza Hut a whopping $1 million.
The only sad thing about the delivery must have been the fact that the astronaut who received the pizza delivery may not have fully enjoyed it. This is because prolonged stay in space has a way of messing with the taste buds of astronauts thereby affecting the way food tastes.
4. The Pizza Hut engagement package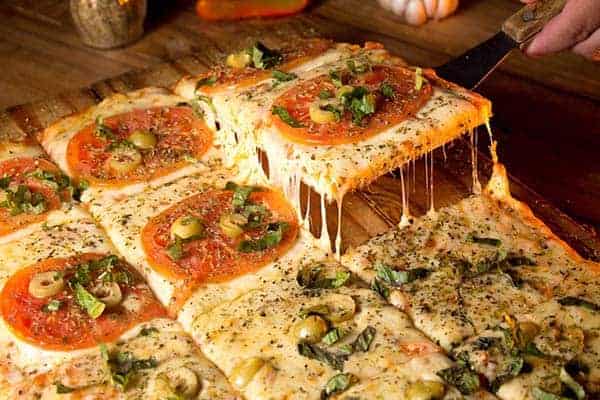 Love can be a very beautiful experience, and it is made even more beautiful when it is expressed in a pizza. Back in 2012, still in the spirit of setting the pace, Pizza Hut launched its engagement package worth $10,000 to help lovers pop the big question. This engagement package came fully loaded with a customized ruby engagement ring that wonderfully matches the pizza. If all goes well with the proposal, both parties should be diving into the pizza! The package also came with fireworks, flowers, coupled with a photographer and videographer who would help capture your memorable moments.
5. The projector Pizza
Still not tired of innovating, Pizza Hut took its advertising game to another level with a pizza that also served as a projector. Back in 2015, the blockbuster box was launched. With this technology, you could move from eating a pizza to watching a movie in just a few minutes. The only major drawback of this innovation is that it was limited to pizza hut locations in Hong Kong.
6. The rich and Famous love Pizza Hut
It seems Pizza Hut has over time had it nice with its reputation. How else would one explain the number of celebrities that have starred in their commercials? For instance, back in the 90s, we saw a certain Soviet leader in the person of Mihail Gorbachev appearing to promote the pizza chain. This was after the new president of the United States Donald Trump starred in a commercial with Ivana. These days, The Pizza chain has people like Kristen Wiig and Jessica Simpson serving as its spokespeople.
7. They consume a lot of cheese!
Ever wondered where all of the cheese in the world goes to? I do too! But while we may not exactly know, we can at least tell you where a large chunk of it ends; in Pizza Hut. Pizza Hut uses more cheese than anyone else on earth! The company is known to use as much as 300 million pounds of cheese each year. What this simply means is that the company buys almost three percent of the total produced cheese in the world.
Furthermore, the pizza chain uses as much as 525 million pounds of tomatoes in addition to 700 million pounds of pepperoni. You may wonder how they use such large numbers, but that's what happens when you have over 16,000 locations world over.
What Are The Business Concepts Used By Pizza Hut?
Pizza Hut operates in different formats for its restaurants and this includes the original storefront delivery, family-style dine-in, as well as the hybrid spots which have delivery, carry-out, and dine-in options. Several large Pizza Hut locations also have an all-you-can-eat salad, pizza, breadsticks, and deserts. It should, however, be noted that the company has other business concepts aside from the store type.
Back in 2004, another concept was conceived named the Pizza Hut Italian Bistro. With about 50 locations in America, the Bistro even though similar to a normal Pizza Hut boasts of new features such as new culinary additions like chicken Pomodoro, penne pasta and a toasted sandwich.
Which Pizza Hut Location Is The Oldest?
Before it closed back in 2015, the oldest location of the chain was located in Kansas. It was specifically located in tavern and shopping district referred to as Aggieville close to the state University. Also interestingly, the pioneer Pizza Hut location east of the Mississippi was unveiled in Ohio back in 1966.
Where Besides America Can I Find Pizza Hut Outlets?
Pizza Hut has a rather imposing presence all over the world with over 16,000 outlets. These outlets are scattered in countries such as Mexico, Canada, and India. There are also Hut locations in Japan, Saudi Arabia, Brazil, Nigeria, Taiwan, South Korea, Iraq, Chile, Venezuela, Sweden, and Norway to mention a few.
What Happens When A Pizza Hut Location Closes?
One unique feature of this pizza chain is its unique red roof. The shape of this roof usually matches with the company logo. What this implies is that even when the company moves out of the building for another business, it is still not difficult to identify the Pizza Hut footprint. This even applies to roofs that must have been painted into a different color; the shape of the roof still sells it out.
Take Away
By now you should understand what makes Pizza Hut so expensive. However, beyond that, you should better appreciate the rich history that backs up the pizza chain. One thing that remains certain about Pizza Hut is that they don't look like slowing down in terms of innovation. The continued dominance of the company in its space is certainly not by luck and as such it doesn't seem like removing its foot from the gas of progress anytime soon. Pizza Hut is certainly here to stay!
You May Like These Articles As Well: