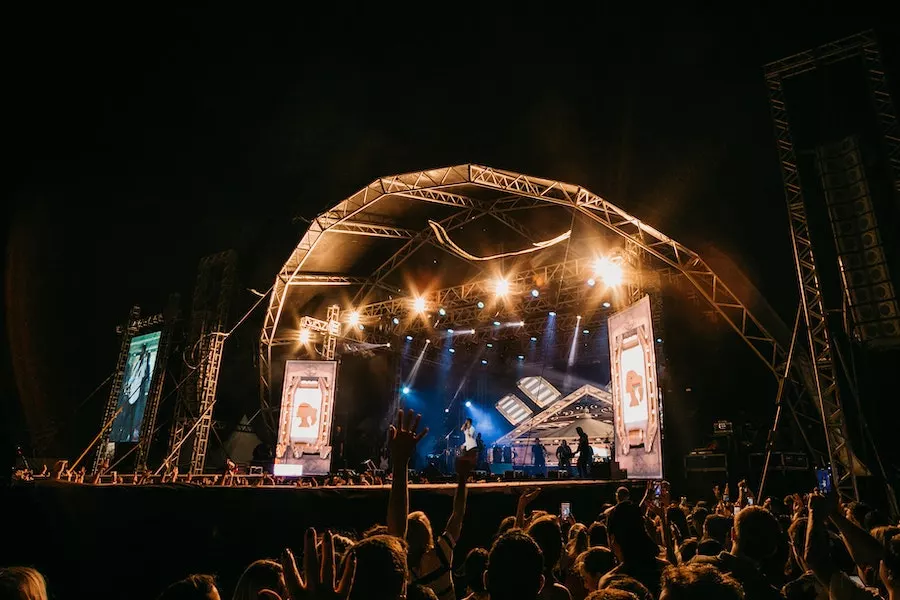 For music lovers, of the best things about the summer and fall seasons are the concerts. Whether you are heading to your favorite summer music festival out under the sun, or you are throwing on your favorite fall jacket and heading out to a cool evening show, both seasons are great for outdoor concerts. There is something special about live music in an outdoor setting. The open sky above and the fresh air can make even the most familiar songs memorable in a whole new way.
This fall, if you are heading out to see some of your favorite bands play in the open air, then here are a few things you may need!
Skin Care, Skin Care, Skin Care
Yes, you are going to be outside, and yes you are going to a concert, so maybe skin care isn't the first thing on your mind, but it really depends on the situation. Proper skin care is something that can really make an impact on our daily experiences. The skin is the largest human orang in the body, and when it's healthy and strong it's noticeable. When you go to a concert, you want to feel your best, and having clear, healthy skin will help you do just that.
Thankfully, there are a lot of easy ways to care of your skin when you head out for a concert or a music festival First off, you can take probiotics for clear skin which can be part of your daily skin routine. These powerful probiotics help to improve skin health by balancing the skin's natural microbiome. With a healthy microbiome, a person can naturally reduce blemishes like acne, redness, swelling, and dry skin.
For the more immediate needs of an outdoor concert, always be sure to travel with sunscreen and bug spray. Your favorite sunscreen, like Hawaiian Tropic, can make a huge difference if your concert is outdoors during the middle of the day. At the same time, if it's in the evening you don't want to be distracted by annoying mosquitoes, gnats, or flies.
All of this can take away from the experience of trying to enjoy your favorite bands and just be a nuisance if you don't bring sunscreen and bug spray. So be sure you throw some sunscreen and bug spray in your bags before you head out and save yourself the headache.
It's Okay To Get Crazy – Even If You Wear Glasses
Let's be honest, depending on the band and the vibe, you may get a little carried away when it comes to jamming out at an outdoor concert. Whether it's an outdoor rave or a mosh pit for your favorite metal band, you'll probably be doing some moving, grooving, or at least some stomping!
If you wear sunglasses or any kind of glasses, you don't want to lose them – so using a safety strap for glasses could be a lifesaver. These straps can typically attach to any particular pair of glasses and can keep your second set of eyes firmly secured. This can come in handy in a lot of situations when it comes to enjoying an outdoor concert or music festival with glasses.
So whether you strap on your favorite pair of sunglasses, or you wear prescription glasses instead of contacts, use a safety strap for glasses to make sure they don't get lost.
Take Your Favorite Festival Clothes
Whether you wear festival clothes or you the most exotic part of your wardrobe is a us navy hat, make sure and wear what makes you feel good at your next outdoor concert. If you are going to a music festival, depending on the kind of festival you go to, it could be a good chance to throw on your favorite rave clothing and have a good time.
Music festivals are a time to cut loose and show off a side of yourself that you may not often get the chance to show. Your favorite DJs, the raves, and the long nights are what make up the memories you'll hold on to. So make sure and get festival clothing you feel great in – it's well worth the investment.
Always Be Sure to Hydrate
Typically an outdoor concert, or an entire music festival, can represent a huge time commitment. Depending on the time of year, this could mean exposing yourself to some intense weather. If it's during the summer, you run the risk of sitting or standing in the blaring sun for hours, and during the fall months, it might get chilly, or even rainy. So making sure to hydrate properly before, during, and after an outdoor concert or music festival is crucial.
Even if you plan on drinking some adult beverages while you enjoy your concert, be sure to bring along your favorite water bottle and keep yourself hydrated. You won't regret the decision in the long run.
Bring A Blanket And Some Snacks
A pro move for going to see any kind of outdoor concert is to bring a comfortable throw blanket and some snacks. Having the ability to get off your feet and relax on a comfortable blanket can be a lifesaver. Outdoor concerts can be long and involve a ton of standing. If the venue itself is in a natural area, like a field, then having some seating and resting options is paramount.
This doesn't have to be anything crazy either. If you are going with friends, bring along some lawn chairs to use as well and everyone can help carry the equipment. A nice blanket, some lawn chairs, and a good amount of snacks will go a long way to making your outdoor concert even better!
Conclusion
The truth is, you don't have to overcomplicate the process. In the end, going to see your favorite bands play outdoors is always going to be a great time. As long as you make sure you have the basics down, the rest will fall into place. The magic about outdoor concerts is that you never quite know what to expect.