You may have asked yourself, "Mars bar vs. Milky Way, what's the difference? Aren't they the same? There has been a battle of superiority among these two candy bars in times past. But really, I am not going to start another war between these two. Let's figure out what the differences are for knowledge sake.
So what are the differences between Mars bar and Milky Way?
First, know that the Milky Way or Mars bar in Europe is different from what you may find in other places, and I mean the content, including their taste. But let me state the common differences between both. Milky Way usually has a harder chocolate coating, while Mars tends to have a softer one. You will also find the Milky Way in white and blue packages, while the Mars bar comes in red and black wrappers, though there are other packaging designs these days.
So that's the difference right there. But keep in mind that there are localized changes. You can read for more information regarding the variations and other things you need to know about these two chocolate bars.
History Of The Mars Bar Vs. Milky Way
To better understand the differences between these two, there are diverse areas we would look into. One of them is the history of both candy bars, and that's where we are going to begin.
The Mars bar is a chocolate bar that has been in existence for many years. It was initially made in England by Mars, Incorporated in the year 1932. So this chocolate candy does have a long and rich history behind it.
The Milky Way is older than the Mars bar. It is also a product of the same family that made the Mars bar, Frank C. Mars, the father of the inventor of the Mars bar, in 1923. And it was created in Minneapolis, Minnesota.
So these are the brief history between these two chocolate bars that turn heads. But the thing is despite being produced by the same company, these two chocolate bars still differ. However, their history isn't as brief as I wrote here either. I just wanted to give you the meat only.
Mars And Milky Way: What Are The Ingredients?
The next area we need to focus on is the ingredients that both chocolate candy bars have. By knowing every one of them, we will be able to understand the differences between the two.
Let's start with the ingredients of the Mars bar. They include sugar, cocoa butter, sunflower oil, cocoa mass, milk fat, glucose syrup, palm fat, whey powder, fat reduced cocoa, protein and lactose from whey, natural vanilla extract, egg white powder, milk chocolate with vegetable fat and cocoa butter, barley malt extract, salt and skimmed milk powder.
Next, are the ingredients of the Milky Way. They include cocoa butter, skim milk, sugar, artificial flavor, milk chocolate, corn syrup, hydrogenated palm kernel oil, cocoa powder, malted barley, egg whites, salt, lactose, and milk fat.
So these are the ingredients you will find in both chocolate bars. However, keep in mind that the ingredients you may find in some of these chocolate-covered candy bars might be slightly different.
Mars Bar: Things You Need To Know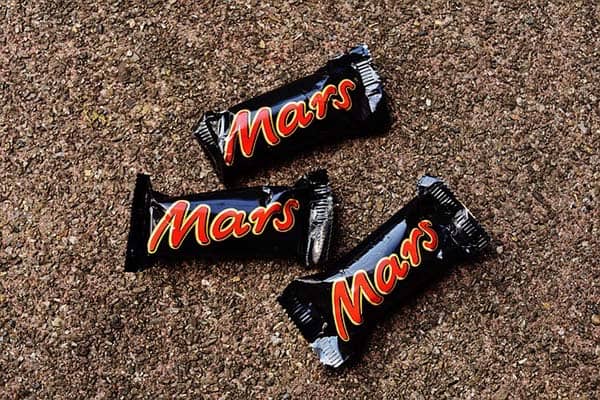 You already know that the Mars bar is made from chocolate. But based on the region it's manufactured, the Mars bar can either have the roasted almonds or nougat.
Again, I would like you to know that two Mars bar versions exist. One is from the U.K, and it's said to be the original one. The other is sold precisely in the USA.
However, you may want to know where the Mars bar is most popular. Well, it's in the United Kingdom. It's a favorite candy bar of many, including the young and the old.
So let's compare the Mars bar sold in the USA to the one sold in the U.K.
The Mars Bar: United States Vs. United Kingdom Version
The first thing I would want you to know is that there is a massive difference between the Mars bar U.K version and the U.S version. But many may think they are both the same. The only way to figure out is to take a closer look at them.
So what's the difference? Well, the Mars bar from the U.K has a lighter color while the U.S. version is the direct opposite. The US Mars bar is exceptionally dark in color.
Another significant difference is in their constituents. While you may find caramel in the U.K version, the U.S Mars bar doesn't contain caramel. Also, the American version of the Mars bar comes added with toasted almonds. It is even sweeter.
In terms of texture, the U.K Mars bar version seems to be a bit solid than the Mars bar U.S. version.
Is the Mars bar still being produced in the USA? Well, No, it is not. Production stopped in 2000. However, it was later re-launched, but the name was different this time. The name was changed from Mars bar to Snickers Almond Bar.
I will also like to add that the Mars bar comes in different types and flavors. They differ from country to country too. So, when you find a Mars bar that tastes different from what you have in your area, don't panic. They are all Mars bars. Nothing is wrong with the product you are consuming.
So here are some of the types and flavors of Mars bar you may find out there.
Types and Flavors of the Mars Bar
Mars Almond
Mars Maple (Canada)
Mars Gold
Mars Light
Mars Dark
Mars Vanilla Flavored
Mars King Size (U.K.)
Mars Lava (Australia)
Mars Loaded (Australia)
Mars Bar Red (Australia)
Mars Chill (U.K., New Zealand and Australia)
Mars Original United States of America
Mars Original United Kingdom
Mars Bar And Milky Way: How Both Differ In Taste
If you have had the chance to try the Milky Way and Mars bar, you will figure out that they taste differently. That's also what differentiates the two chocolate bars.
The Mars bar has a slightly more artificial and processed taste. But really, it's something you will enjoy. The only aspect most people find unpalatable is its nougat that tends to be more powdery and creates a kind of a mess when one is consuming it.
Adding to the mess created by the powdery nougat is the caramel. It tends to be a bit harder than expected. But then, the flavor isn't bad, so it compensates for this.
The Milky Way's chocolate quality tends to be better. Its creamy nougat, caramel, and chocolate make consuming this chocolate-covered candy bar a delightful one.
Milky Way Vs. Mars Bar Ingredients: Are There Any Difference That Sets Them Apart?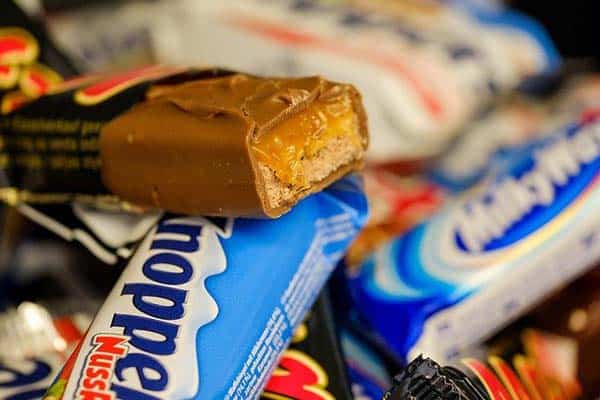 The ingredients of the Milky Way and Mars bar are almost similar. However, do you know that there is a notable difference with regards to the ingredients both candy bars have?
So what is that one constituent that differentiates them? Well, let's start with the Mars bar. The Mars bar does not come with any full-on chocolate. Most of the ingredients of this candy bar are from powders and not natural substances.
However, the Milky Way is quite different. And as you already know, emulsifiers rule our confectionery world. The Milky Way still centers on a little processing. But then, it's formulated with a pretty decent amount of natural ingredients.
Mars Bar And Milky Way Chocolate Addiction: Is It Even Possible?
We know people who are addicted to alcohol, cigarette, and hard drugs. But the word "chocolate addiction" seems strange right? So the question is, can one get addicted to chocolate?
Well, chocolate craving is something common. There are also similarities between the use of drugs and chocolate consumption. However, researchers do not believe there is anything like "chocolate addiction." And even if one claims to have it, it's not usually considered a true addiction.
But there are cravings. Women crave chocolate more than anything else, and it has even gotten a unique name. It's called "chocoholics." Most chocoholics understand that the addition is more of a habit formed than an actual addition.
Anyway, whatever you believe it is, chocolate craving is a habit one should fight to suppress. So if you are having mad chocolate cravings, check out the tips below to help you overcome it.
Curbing Chocolate Craving: Steps You Need To Take
Find out what's making you crave chocolate. Is it emotional issues like depression or low self-esteem? Once you can identify the problem, find any way to solve it.
Take your mind away when the craving comes knocking. You can read a book, call your best friend, take a walk or run. But don't stay in a place where you can quickly grab a bar of chocolate. You will only make things worse.
Exercise regularly. It will help release endorphin, which helps to counteract depression, stress, and even anxiety.
Tell those related to you to stop sending you chocolates. Be polite and tell them your plans to stop chocolate cravings.
Conclusion
So, Mars bar vs. Milky Way: what do you think differentiates them? Well, the differences are clear from what I wrote in this post. It has to do with their texture, taste, and constituents. You can see that in the post. You can also check out the tips to put an end to chocolate cravings. The Mars bar, for example, contains a large number of calories. And overeating something like that will not be too good for your thighs and general health, you know.
You May Like These Articles As Well:
Things to Consider If You Want to Lose Weight